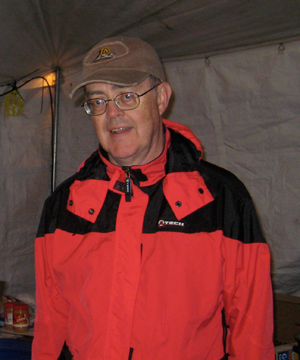 HISTORY OF SUCCEED SPORTSDRINK
SUCCEED! Sportsdrink, Inc. was founded in 1989 in the state of Wisconsin. The product line has been successfully used by many elite athletes to set records. Runners from the top of the field to the back of the pack have enjoyed their results with SUCCEED! In 2002 the company moved to Colorado and has been operating there since.
WHO DESIGNED ALL THIS STUFF?
All products were designed by Karl King (photo to left, crewing the Leadville 100), President, SUCCEED! Sportsdrink LLC, and who retired from Hach Company where he was Principal Scientist. Karl has run the ultra distances through 100 miles, and for four years was the Race Director for the Ice Age Trail 50 Mile Run in Wisconsin. Karl has ten patents, and is a co-winner of the R&D Magazine R&D 100 Award for top product development( 2005 ). Karl has a broad education ( University of Illinois and U. of I. Graduate School ) which includes chemistry, electronics, mathematics and automatic control system theory.
"One needs to experience the fatigue, and develop the resolve to run on in spite of it, learning that by relaxing and concentrating on form, you can keep moving forward when any sensible person would have stopped." Karl King